Legacy Cruise Halong Bay 2 Days 1 Night
Legacy Cruise Halong Bay 2 Days 1 Night
 Legacy Cruise Halong Bay is best choice for your golden Halong vacation. Legacy cruise is designed and built for the couple, family and small group with the most convenient, comfortable, luxuriant as well as enchanting services. below is ship facts of Legacy Cruise
Built: 2014
Design concept: Contemporary Asian style
Length: 35 m
Width: 7 m
Height: 7 m with 2 sails
Deck 1: 8 cabins in twin, double, single & connecting room, captain room, staff rooms and kitchen
Deck 2: 4 cabins in double, twin, single & family room, restaurant, public toilet and staircase
Cabin
Harmonious Asian style! That's is the way we create an unconventional sail in order to bring a world of most comfort and romance for all the tourists – who are indeed luckily to have the chance coming to one of the most unique & spectacular beauty of the world.
The cabins are designed and fitted domestic & international standards, characterizing by wooden décor with high – large windows that allow opening the further view around the bay. The bedrooms are designed with luxuriant fine caved patens taking care of your sleep.
Cabin facilities:
Comfort bed with linens
Air-con
Fan
Private Bath
Rustic rattan furnishings
Lights
Window with curtains and pictures
Sundeck
The sundeck with universal space & pure atmosphere will surely impress the strictest ones. With fine architecture of the harmonious combination dotted with green trees together with scientific arrangement as
+ The room under the roof focuses on aesthetic with fresh air & buoyant weather and is a reasonable place for relaxing & drinking
+ The outdoor space is full of sunshine & sea wind becoming inevitable part for sunbathing & reading.
To snap a series of great pictures – Just a kick! The entire Halong Bay immediately appears in your eyes. You can enjoy an exotic cocktail or take a look over the mild beauty of heaven mixed with yeast creating a new source of your inspiration.
Restaurant
Legacy Cruise offers fresh, delicious local seafood and Vietnamese traditional Cuisines. All the meals on board are always guaranteed to have the best local flavors done by very skilful Chef who makes you unforgettable cuisines!
The restaurant settings, hospitable & well trained staff, calm water, x-breeze and the secret beauties of the bay which are unveiled will help bring sufficient moment of feelings & reality!
ACTIVITIES
Kayaking in Halong Bay
Kayaking in Halong Bay is more than an indulgence; it offers vistas not reachable by other means. The setting cannot be more dramatic. Thousands of limestone peaks raise magically from crystalline emerald waters, dotted by islets and deep, mysterious caves.
Rowing local bamboo boat.
You will have chance to rowing small bamboo boat to explore floating fishing village – Ba hang is located in the heart of Halong Bay, 24 km from the mainland. You are not only be immersed in the quiet and peaceful location viewing the charming landscape, and discovering the cultural life of the fishermen.
Cooking class
Cruising on Halong bay with Legacy cruise, you can join our cooking demonstration. Our chef and staffs shows you how to prepare some traditional Vietnamese dishes. Even if you do not expect to do much Vietnamese cooking, a cooking class is a fun and interesting way to learn and understand the local Vietnamese ingredients and how to make some of the popular dishes. We hope with a few time on Legacy cruise we can help you to have the overview about the Vietnamese cuisines.
Drinking time on Bar:
We have a convenient Bar on Legacy Cruise with many drinks. Our bartender can make the hundred kinds of cocktail and drinks. Serving you with professional way we hope to bring you the satisfaction time on boat. Come and try it.
Squid fishing in the night:
At the night time on Legacy Cruise will anchor in the quiet area. Then our sailor will invite you to do squid fishing activities. They will help you preparing fishing – rod and show you how to catch a squid. During the fishing time you can have chance to see the "floating city" on the sea which create by tourist boats.
Scuba diving Package activity:
Beyond classic Halong bay tours, we also offers travelers the special product which no one has done before in Halong bay – Scuba diving. Travelers can explore hidden beauty underwater with thousands of splendid coral such as sun mushroom coral, leather coral, magnificent stag horn coral, compact coral…, and fish like sergeant major fish, Clark's anemone fish…With internationally- licensed, well- trained scuba divers and assistants, we guarantee the safety, pampering amenities with friendly and attentive management which make you unforgettable experience.
Bungalow in Cat Ba Island:
There are many beautiful bungalows in Cat Ba Island. It is suitable for people who want to live in the nature. Most of the bungalow built in the part of Cat Ba national park and on the beach. Vietland Travel mentions you about the transportation when you want to come to Cat Ba Island for staying in bungalow. An easiest and cheapest way for you is booking the daily group trip in Vietnam tonkin Travel. We suggest you some bungalow such as: Suoi Goi eco-lodge, Nam Cat Bungalow, Viet bungalow…etc
Rock climbing and Deep water soloing in Lan Ha bay:
Lan Ha Bay is one of the most majestic climbing areas of the world. Have many limestone karts rising from the sea. The area has several sport climbing routes and has vast potential for further development.
However If you do not want to carry gear half way around the world, the area offer infinite possibilities for deep water soloing. Have routes from easy to sublime. Jump on one LEGACY DAY CRUISE and take a tour around the islands. Spot a line, stop the boat, check the depth and up you go.
Biking in Cat Ba National Park:
Cat Ba Island is the perfect place for biking tour. Vietnam tonkin TRAVEL organized the trip for cycling in Cat Ba National Park. During the biking time you will have many chances to discover not only the nature but also the history of this island under Vietnam wars. Visit the "Hospital cave" is one of the mainly part in trip.
BBQ Buffet on beach:
When you book your trip with LEGACY CRUISE there is no better way of treating yourself than with seafood barbecue lunch. Our crew will invite you for a BBQ lunch on the board – as if it were a wonderful gift granted by a mermaid. Imagine for a moment that you are the only people on earth enjoying a fabulous meal under the clear blue sky on the quite area. Start with a glass of wine and proceed to enjoy an array of succulent, grilled seafood.
Restaurant
Our bar offers fresh, delicious local seafood and Vietnamese traditional Cuisines. All the meals on board are always guaranteed to have the best local flavors done by very skillful Chef who makes you unforgettable cuisines!
The restaurant settings, hospitable & well trained staff, calm water, x-breeze and the secret beauties of the bay which are unveiled will help bring sufficient moment of feelings & reality!
ITINERARY 2 DAYS 1 NIGHT TOUR
DAY 01: HALONG LEGACY CRUISE TOUR: Halong bay – Fishing village & kayaking (L/D)
07h30 – 08h00: Pick up and transfer to Halong bay, soft break on the half way.halong bay.jpg
12h30: Arrive at Halong habour, transfer to Legacy boat by tender, and welcome drinks will be served. Check-in your cabin
13h00: Vietnamese lunch will be served while cruising into Halong bay toward Lan Ha bay & Bai tu long bay.
– Option 1: visit Floating fishing village. Our guide will give you some information and interesting facts about this fascinating village and its local community and then the fisherman will take you around village by small bamboo boat.
vung vieng fishing village.jpg
– Option 2: Do kayaking, you will have chance to explore tranquil bay by yourself
17h15: Back to the Legacy Cruise, cruising to Drum cave area for docking and sleeping. Enjoy the small party with fresh fruit and Vietnamese tea.
19h00: Dinner is served in the restaurant.
21h00: Leisure time to enjoy a chat around the bar, dancing, karaoke; watch movie or enjoy night fishing… Relax and spend a romantic night on board
DAY 02: HALONG LEGACY CRUISE TOUR: Halong bay & cave – Back to Hanoi (B/L)
Start your day with Taichi exercises or a photo hunt. 07h00: Breakfast, coffee and tea and served while cruising ahead to Halong bay. Passing many beautiful islets on the bay: Head man's face islet, Saddle horse islet, Fairy lake, drum cave, Virgin cave.halong surprise cave.jpg
Option 1: Visit splendid Surprise Cave (Hang Sung Sot). This is one of the most beautiful cave in Halong bay. You will feel surprise about imposing of stalagmites, stalactites and many legend stories about that.
Option 2: Visit Titop island where you can swimming at the nice beach or climb up to the top & enjoy Halong bay's panorama
09h30: Back to Legacy boat. Take time to refresh and relax before checking out. Keep sailing back to the Habour through the waters and passing many beautiful islets and island on the Halong bay: Fighting cock rocks, Dinh Huong islets, Ba hang fishing villages.
10h30: Joining Vietnamese Cooking Class (Vietnamese spring roll).
Cooking class
11h00: An early lunch will be served.
12h00: Arrive at the pier. Time to say goodbye to the crew
12h45: Return from Halong to Hanoi
14h30: Stopover on the way for soft break. Around 17h00: Arrive in Hanoi. Tour finish.
The Special Rate : 110 USD / 1 person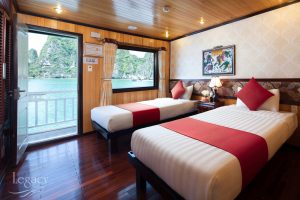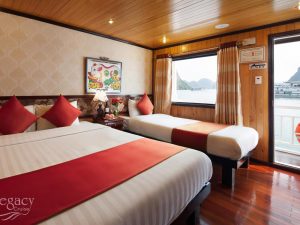 Inclusions:
Full equipped cabin with A/C, hot water
All meals as itinerary
Complimentary morning tea and coffee
Welcome drinks & Entrance fees, shuttle bus round trip from Hanoi & returns
Kayaking, small bamboo boat
Bike on the second day
Day boat on the second day
Fishing equipment
English speaking guide on boat
Insurance on boat
A/C time on boat: After dinner to 6.30 A.M
Public area Wifi
Exclusions:
Private car (upon request)
Additional drinks on boat
Tips and other personal expenses
All other services not clearly mentioned above
Trip note:
Special requests on food (diet or vegetarian) please inform us before departure.
Children from 5 to 10 years old are charged 75%, sharing room with parents.
Children under 5 years old are FOC, sharing room with parent
This itinerary is subject to change without prior notice. Please get final confirmation from our sales staff before your departure. Rates are subjected to change without prior notice.
Promotion might apply, inclusions and exclusions might change – you will be informed of changes upon booking.
Booking Email 24h : legacycruisehalongbay@gmail.com
Hotline : +84 9 8587 3537